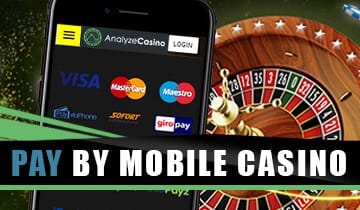 With so many different mobile casinos online being available for players to choose from, it is imperative that players are able to deposit credit in many different ways so that it is most convenient to them.  Online casinos try to provide as many possibilities of doing so to enable as many players to access their sites. 
If mobile casinos, mobile slots and phone slots were not able to provide multiple methods of depositing cash, they would limit the number of players who would be able to access their games or wouldn't want to use their site at all so it is in the online casinos best interests to be able to offer as many different deposit methods. What are these methods and how popular are they with the online slots uk online gamers?

Mobile Casino Credit with Debit Cards
Mobile casinos most frequently offer debit cards as a popular way to deposit credit into your online casino account because it only enables you to deposit amounts of money that you actually have.  You cannot credit your account with money that you do not have so it is harder to get yourself into debt by using this method.  Some types of debit cards are more popular to use than others, such as a Visa Debit.
Debit cards are popular because they have high-security protection associated with them and they have an almost instant processing time which means that players barely have to wait seconds for their debit card money to become credit in their online casino account.  This means that they do not have to wait for long at all to be able to start playing which is a real pro of using this payment technique.
Mobile Casinos and Credit Cards
When playing on an online casino, there used to be the ability for players to be able to deposit credit via their credit cards too, but this option has recently been removed. This was because this online credit method had a huge impact on players getting into severe financial difficulties because they were able to deposit a lot more money than they actually possessed so this meant that gambling addiction was much more likely to occur.
To try and prevent the levels of addiction and financial struggles from occurring, credit cards are now not a method that can be used to deposit money into an online casino account. Though some players, especially the high rollers, find this frustrating, it is actually there to protect you as a player and not to prevent you from being able to deposit money in a way you would like.  But there are many other alternative methods that you could try.
Mobile Casino Credit with e-Wallets
In relation to mobile online slot games, there are many different types of e-wallets that you may be familiar with but the most popular type of e-wallet to credit your online casino account with in the UK is that of PayPal.  This is because all of the safety measures are already in place and your account is already linked to your bank account so it is a very fast method of accessing your own bank account and depositing money into your online account so that credit can appear in your online casino account.  This is why so many players love it due to its speed and its reliability.
PayPal is the most well-known of the e-Wallets but there are many other options that you may prefer using, such as Neteller, MyCitadel, Skrill and more.  The only reason that players may choose to a different way to withdraw money from their online casino account is because the withdrawal processing time can take a minimum of 24 hours which some players do find irritating especially when they are all excited about their new winnings and want to see if deposited in their bank accounts immediately.
Pay By Mobile Casino
Pay by mobile is one of the newest methods of being able to play your online casino games and make a deposit. All you need to be able to participate in this online casino credit deposit method is a mobile phone with a UK sim card and you will be able to use this method.  This way, you can make immediate deposits from your mobile phone and it is linked to your mobile phone bill as opposed to your bank account. 
Pay by mobile casino saves time linking your online casino account to your bank account and there is no need to worry about the online safety of hackers because no information has been shared.  This is also an ideal deposit method for anyone who wants to keep their anonymity or may not want to be associated with gambling online or online gaming.  Yes, your phone bill will look bigger at the end of each month, but as your phone bill is always itemised, you will always be able to figure out why and it will be no surprise as to why.
Mobile Casino and Setting a Bankroll
Before you start playing on your chosen mobile casino, you shall always create a bankroll so that you are aware of how much money you have to play with and how much time you have been playing for.  This is the best way to avoid getting into any unwanted financial difficulty and so that you can avoid becoming addicted to online gaming and online gambling.
You can do this by setting up a bankroll which will limit the amount of money that you are spending over a period of time or you can set a timer on the online casino that you are using. Both of these are effective methods to protect you and keep you safe online.  Playing without either of these methods in place is not advised and is not a responsible way to play.
Mobile casinos offer many different ways in which you can deposit money for credit on your chosen online casino so there is bound to be the ideal way to suit you.  We have covered the most popular methods for making a credit deposit from your mobile but there are more ways for you to explore.  What is your favourite deposit method and why?