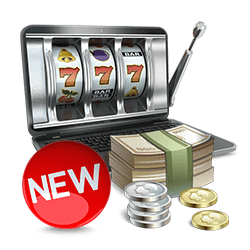 When it comes to online casinos, slot games dominate. They're hugely popular amongst gamblers, largely in part to their fun designs and potential to win big. They also come with the benefit of being massively convenient, given their compatibility with several platforms which can be played anywhere.
So is it easy to play slots online? Well Slots UK did the necessary research to help you best answer that question.

Abundance of Slots on the Internet
In the most literal sense, it's very easy to play online slots. Because, quite simply, there's so many of them. You can play them on the bus. You can play them on the train. You can play them on your lunch break. You can even play them sitting in your bedroom wearing nothing but underwear for all anyone cares.
Every online casino has a myriad of slot games on offer, and more often than not they will be throwing sign up offers and bonuses to new players like they're going out of fashion. Many games will also offer a demo version of the full title, meaning that you have the chance to learn exactly how the game works before you commit to spending any money.
If free slots UK games are so abundant, then they must be inherently easy to play. Inexperienced players have the chance to put in the practice that can reap massive financial rewards in the future. If you practice something enough times, it's only inevitable that your skills improve.
Simple Gameplay
You really don't need to be a rocket scientist to play an slot games online. You don't need to research complicated strategies, spend endless hours on YouTube tutorials, or play any mind games to try and get the better of a dealer – click a button, watch things spin, and hope for the best.
Although slot games can vary in theme (which adds to the fun), the actual mechanics of the games have little variation. They all come with the same wilds, scatter symbols and bonus frameworks (although the requirements to activate said bonuses will differ – always read the wagering requirements).
The spins are controlled by a random number generator, and there's nothing you can do to change the odds. Learning patterns may help, but ultimately whether you win or not is out of your hands.
Once you learn how to play one, you learn how to play them all. That kind of uniformity across the board is definitely a point in the favour of slot games. Most of the games even have an autoplay feature, meaning that you can put in even less effort if you so choose, and still maximise your money.
Low Stakes Available at Slots
You can win money from a 10p stake. Your higher stakes casino games such as poker or blackjack will require you to make higher minimum stakes, otherwise it's not worth it for the online casinos.
This is the beauty of online slot games. You can play slots with low risk stakes and still win decent money. Coupled with that, online casinos are always offering sign up offers and bonuses to new players like there's no tomorrow. It's their way of trying to lure in new players, but the offers are there to be taken advantage of with the right amount of research and shopping around.
There's every incentive to play slots when online casinos are offering you free spins from reasons ranging from loyalty to birthdays.
Depending on the wagering requirements, you can be playing slot games for free. You don't even necessarily need to stake any money to play slots, and it doesn't get much easier than that. When you mix low stakes with high jackpots, it's easy to see how playing slots online is an economical use of your online casino time.
Last Thoughts on Slots to Play Online
Overall, is it easy to play online slots? We think the answer is a resounding yes. The games themselves are very easy to pick up, and the online casinos give you every opportunity to do so. They can be played almost anywhere on the planet, and they require staggeringly little effort and investment, yet they still reward players massively.
Slots UK has a whole host of games waiting for you to try.