Roulette (European)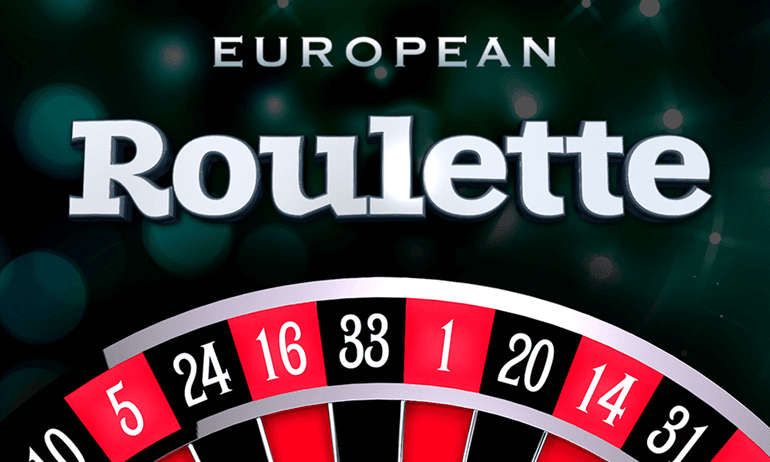 European Roulette Review
The Roulette is a table game that is perhaps the oldest form of classic, regulated gambling, having been invented in the 17th century by French Physicist and Mathematician Blaise Pascal. Its popularization spread from France (country of origin) across other parts of Europe and to the USA, from where it enjoyed full acceptance and approval of gamblers. Find UK Slots at Slots UK, it's that simple!
Unsurprisingly, the Roulette still maintains its relevance and importance as the most popular casino game of all time. Its simplicity and high volatility have resulted in the loyalty of players to this game. The Roulette has grown so exponentially that it now has three recognized varieties – American, French, and European. The European Roulette developed by NetEnt is our concern in this review. 
European Roulette (NetEnt) is a classic game that has 37 wheel slots, stylized and unique wager options, as well as simple in-built assistance options created by NetEnt to guide you through the game. NetEnt offers you an accessible style of play with the rules option. The rules option acquaints you with all the rules and complexities of the game. So that when playing the real money game, you play like a pro and rack up all the wins. 
Quick links: Vikings go Berzerk | Vikings Go Wild | Viking Gods | Thunderstruck | Thunderstruck 2 | Jimi Hendrix Slot | Guns n Roses Slots | Jokers Jewels

The developer of European Roulette: NetEnt
This European Roulette table game was developed by NetEnt. Found in 1996 and formerly known as Net Entertainment, NetEnt is at the preeminent echelon of the software development landscape. Even though arguable, NetEnt is the most successful and most patronized online gaming developer. It blazed a trail in the development of the first online casino software, which up to date, is very much relevant. Find amazing UK slot promotions at Slots UK.
NetEnt has a jackpot platform that specializes in progressive jackpots, with millions of Euros paid to winners thereof. Added to this is their live casino platform, which provides an avenue for players to play a casino game with others on board. It also has a mobile gambling platform, where everything happens live on the net. 
Regardless of its position in the industry, the company has continued to develop top-notch, secure software that protects and preserves player information at all times. NetEnt has a license to provide slot machines in Malta, Canada, the United Kingdom, and their games are played in over 300 land-based and online casinos all over Europe. 
The list of the games to their credit is endless, but we list out a few below: 
Gonzo's Quest;

Arabian Nights;

Coins of Egypt;

Creature from the Black Lagoon;

Dead or Alive;

Dead or Alive 2;

Dracula;

Fairy Tale Legends Red Riding Hood, and other slot games numerous games. 
About the European Roulette Casino Game
The graphics of this game are quite colourful enough to ensure you are not mistaken. The sound of the game sends you into a winning mood and has you spinning the wheels for more and more wins. The minimum wager value is 1 Euro per chip, while the maximum is 500 Euros. You can bet your preferred amount repeatedly or combine it with other amounts. At the bottom right corner of the screen, you will find the best range. 
To start, you will have to choose a token on a specified number or group of numbers and turn the wheel alongside the ball. The number on which the ball lands is the winning number, and if it's the same number you chose, you win and get rewarded accordingly.
There's the Auto-play feature that offers you an opportunity to spin the wheels steadily without any interruption. All you need do is select your token and press the Auto-play button.
Other unique features
This table game has such features as inside bets, outside bets, dynamic statistics billboards, race track bets, favourite, and special bets panel. They are explained in details below:
Inside Bets
This feature appears on numbers 0 to 36 and can be found in the inner domain of the table. it has the following varieties:
Street of Three Line: this allows for a stake on a list of 3 numbers by selecting a token on the exposed line between the three numbers.

Six Line: lets you stake on 6 close numbers at the same time. 

Split: this allows you to stake on two close numbers by selecting a token on the connecting line between two nearest boxes. 

Straight: lets you can stake on a specified number by selecting a token on a box that's similar to the number of your choice. 

Corner: with this, you can stake on 4 numbers that combine to make a square. This is done by choosing a token on the connecting symbol between the numbers. 
Outside Bets
Outside bets are found on the boxes close to the inner area appearing from 1 to 36. The following options:

High or Low stakes: with this, you can bet on the top or low numbers – 19 to 36 & 1-18, respectively.

Odd or Even: you can bet on any odd or even numbers.

Column bet: this allows you to stake on either of the 3 vertical columns. This is done by selecting a token in the box and staking 12 numbers simultaneously.

Black or Red: you stake on the red or black color (not on a number). 

Dozen Bet: you stake on 12 numbers in 3 successive columns. 
Dynamic statistics billboard
This feature contains the billboard in the upper right corner of the game screen. It shows all statistics of your game, history, as well as hot (active) or cold (dull) numbers. It has the options of hot or cold, black or red, and odd or even numbers, all for smooth gameplay. 

Race Track Bets
There is the Race Track button, which opens and appears between the wheel and betting area. The race track button has a similar order of numbers with those on the wheel. It has the following varieties of bet:
Zero: you stake on 7 numbers – 0, 3, 15, 12, 26, 32, 35. 

Tiers: you stake on 12 numbers – 16, 11, 10, 27, 23, 33, 36, 8, 5, 13, 30, 24.

Neighbors: you stake on 1 to 8 of numbers close to one another on each side of a particular number. 

Voisins: you stake on 17 number – 0, 28, 18, 2, 35, 19, 22, 7, 32, 29, 4, 15, 26, 21, 25, 3, 12.

Orphelins: you stake on 8 numbers: 31, 6, 14, 34, 9, 1, 34, 6. 
Favourite and special bets panel
These two buttons perform almost the same function. The first contains the Favourite bets option, where you star or mark game that you fancy (for any reason known to you). The next button is the Special bets panel, where you earmark some bets for later purposes.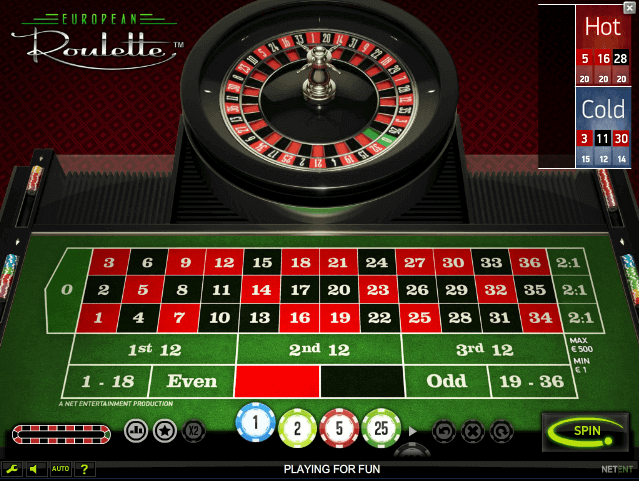 Last thoughts on the European Roulette Casino Game
Often the table Roulette game is dubbed the "Godfather of games." This moniker is much more accurate with this European version of the Roulette game provided by NetEnt. The game is simple enough for you land unprecedented wins and set a record b=never before seen. However, don't forget to accustom yourself with the applicable rules.