Eye of Horus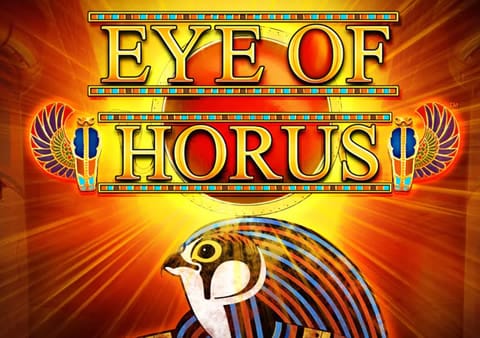 Review of Eye of Horus Casino Slot Game
The online casino landscape is an amazing sight right now, thanks to the incredible array of games across card games, poker games, online bingo and more that readily available at the touch of a screen or the pressing of a button.
With so much choice, online gambling game reviews are becoming a useful tool for gamers to pick and choose more carefully what game they would like to indulge in.
Rather than wasting time flicking through the endless amounts of titles, you ca refine your selection by brushing up on your slot game knowledge and reading the thoughts of slot game experts.
Many slots UK games have been put to the test and this game here, Eye of Horus, is ranking pretty highly as far as online video slots go.
A simple enough gameplay, players can easily pick this one up and enjoy it. Better still, it has a really popular theme with the use of there Ancient Egyptian theme being something that you will see a lot of across the slot game line up of 2022.
However, with a great level of detail and appreciation of the theme in question, Eye of Horus manages to stand out in what is a crowded field of similarly themed online slot UK games and fruit machines.
Quick links: White Wizard | Fluffy Favourites | Fluffy Too | Fluffy Fairground Slots | Rainbow Riches | Rainbow Riches Megaways | Rainbow Jackpots | Fluffy Favourites Jackpot

Summary of Eye of Horus Slot Game
The main gameplay of Eye of Horus is something that regular players of online slot games will be able to grasp fairly easily.
This is because the layout is not unique or something out fo the ordinary like a Megaways slot game or perhaps one of the super modern adaptions of slot games that function without any reels, even. Rather, Eye of Horus takes a standard format for an online slot by using 5 reels and 10 pay lines, limiting the number of ways that you can win but also offering an experience that players both experienced and inexperienced can get into very quickly.
In a busy life that the modern gamer leads, this feature is something that we really enjoy. Good, simple honest slot game with exciting promotions is definitely fun for all.
As mentioned, this game has a Ancient Egypt theme and while there is plenty to say about this Ancient Egyptian style, we will get onto this later on. For now, know that the game has lots of theme relevant symbols and a backdrop that is well designed.
Eye of Horus also offers some bonus features which are sure to be popular once they are triggered, as they will help the player get to the upper echelons of slot game winnings in this one.
The betting in this online slot game starts at just 10p per spin, making it one of the more averagely priced slot games out there and you will not have to break the bank to play it.
However, what we like about this slot game, amongst other things, is the size of the betting range on offer. Eye of Horus allows for bets of up to £100 per spin and, as well as allowing for eye watering wins, this allows for even the high rollers of the online slot game community to get a kick from Eye of Horus.
The jackpot is 500 times your stake in this game, too, so you do not have to be a great mathematician to realise that this equates to some potentially huge wins.
This 500x your stake jackpot is not a bad jackpot total for a simple slot game that does not call itself a jackpot slot, like many of the progressive jackpot slot games, do.
Slot game developers
The developers of online slot games these days are becoming more and more important. This is because, with so much choice out there for the modern online gambler to play with, the standards need to be upped all the time to ensure that new games offer something new and original to what already exists.
The developers are the people who make this happen and for the most part, it is down to these remarkable brands and talented software developers and designers to establish the overall look and feel of the online casino industry of today.
There are so great examples of brands going from stretch to stretch to push the very boundaries of online slot games in the UK, with Microgaming being the most famous of the lot.
They were one of the first companies to emerge as a force in UK online casino and online casino across the world for that matter, having set the record for the highest ever payout in an online slot game.
Yet, Microgaming is far from the only slot game developer and developer of all casino games that are setting the bar high today in online casino's competitive arena.
The likes of Yggrasil also push the boat out every time they release a new game, with their sensational graphics and dedication to the visual side of online gambling meaning they are greatly revered by the online slot game community.
Elsewhere, Leander Games with their original themes and Blueprint Gaming, with their consistent releases across all major platforms, have become a force to be reckoned with when it comes to the best slot game developers.

Blueprint Gaming - Developers of Eye of Horus Slot Online

The aforementioned Blueprint Gaming are the developers of this slot game up for review here, Eye of Horus. Blueprint are one of the most respected developers of not only online slot games and fruit machines, but of online card games and of online casino software in general.
If you like Eye of Horus from Blueprint Gaming, it is well worth your time to check out the whole catalogue of games that this productive and esteemed developer has released.
There are loads of great titles on the Blueprint Gaming catalogue and among the names you will see superb themes as well that range from classic, retro slots, to popular themes like the Ancient Egyptian one used here, to eve far-out themes that always make for unique and original plays.
From a Blueprint Gaming slot game you can expect a certain level of quality when it comes to the visual side of the game, with this developer certainly being one of the best around at producing video slot games with slick animations.
This means that Blueprint Gaming games run smoothly and have a free flowing feel that goes a long way to making the slot game experience the best it can possibly be.
Also, Blueprint is a developer who has well and truly mastered the art of making their online slot games and other online casino offerings fully functional across all major platforms available.
This means that no matter how you enjoy your online casino, be that via mobile device, tablet device or simply via your desktop, you can do so when playing a Blueprint Gaming slot game.
No matter what size screen you use their titles on, the experience will be fully optimised for your device with the quality of animation and performance never suffering.
This is such an important part of the modern online gambling experience and should not be underestimated.
What to Expect About Eye of Horus Slot Game
There is always going to be a big challenge for developers when they decide to develop a game that has a theme that we see so regularly.
And, it is not hard to see why when you consider the fact that some of the most popular games such as Rainbow Riches or Cleopatra use really common themes - Luck o' the Irish and the Ancient Egyptian theme respectively.
However, Eye of Horus overcomes this challenge by bringing something really timeless to the latter mentioned theme of Ancient Egypt.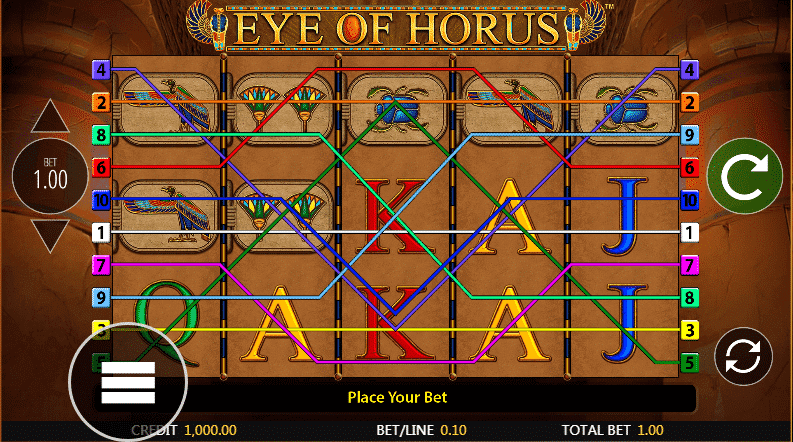 While games can be tempted to rely on mummies and pyramids, Eye of Horus gets the theme across in a really tasteful way that pays tribute to this intriguing period of history through the fun medium of an online slot machine.
There is clearly a high level of detail and thought that has gone into every move that the game makes, with symbols being theme relevant in terms of that they are or how they are crafted throughout the reels.
The Ancient Egyptian theme can be a little same old, same old, but great credit must go to Blueprint Gaming who have developed a game with this classic theme but kept things fresh.
Bonus features and other aspects certainly help with this, with the superb functionality across all major platforms definitely helping to bring this theme into the modern world of online slots.
Playing Eye of Horus Slot Game
As ever, this slot game starts how you would expect as, after landing up the game, you place your bets on the reels and hope that they are kind to you.
There are 5 reels to work with here on Eye of Horus as we have already mentioned and, despite the classic gameplay style perhaps being a little limiting in terms of variation, we actually like the gameplay of Eye of Horus due to the fact that you know how it works as soon as you load it up. The graphs are simple but really well done in all honesty, with the background of a desolate tomb making for a backdrop that the reels really stand out upon.
The tomb or temple seems underground due to the lack of light and is made of some earthy brown or clay-like colours which would have been typical of Ancient Egyptian architecture. The lower paying symbols in this title are nothing too fancy as they are just provided by the classic card symbols.
However, rather than being playing cards themselves, they are occupied by the corresponding letter and they look elegant, using a font that works well with the theme at hand. The higher paying symbols are all theme relevant ones and you will see hieroglyphics and ancient markings or drawings appear on the reels.
These are wonderfully detailed with some of them cleat having separate strokes as if painted just for you. We love this attention to detail and it really helps this game excel within its own theme as one of the best Ancient Egyptian slot games around.
The Horus symbol is the wild in this game, so keep an eye out for him as he will be very key to your winnings and general enjoyment of this entertaining slot. This wild can substitute itself for tother symbols to create a win and also expand to fill the reels and increase your chances of lining up a combo.
Eye of Horus Bonus Features and Free Spins
As for the bonus features available in this slot game, Eye of Horus offers not just one but two main bonuses aside from special symbols such as that earlier mentioned wild.
This includes the popular free spins round which regular slot game players will know all about already.
This particular slot game is triggered by the player when they manage to land three or more of the symbols that show the entrance to a temple on the reels. If they are anywhere in view, the free spins round will be activated and the player can make the most of twelve free spins.
The game Eye of Horus also has a gamble feature for those looking to up the stakes and this can be used whenever the player likes. You can double your wins or multiply them up to five times if you get this gamble feature right.

Verdict on Eye of Horus
With all things considered, the Eye of Horus slot game is a really good example of a slot game that uses a theme we all know and love, but in an interesting way.
There is so much attention to detail in this online slot game that it feels like a mini history lesson as you spin it's 5 reels and see different icons and relics of Ancient Egypt appear.
With a big jackpot and some useful bonus features, this slot game ticks all the boxes.
You might also want to try Viking Fire slot game.