Gonzo's Quest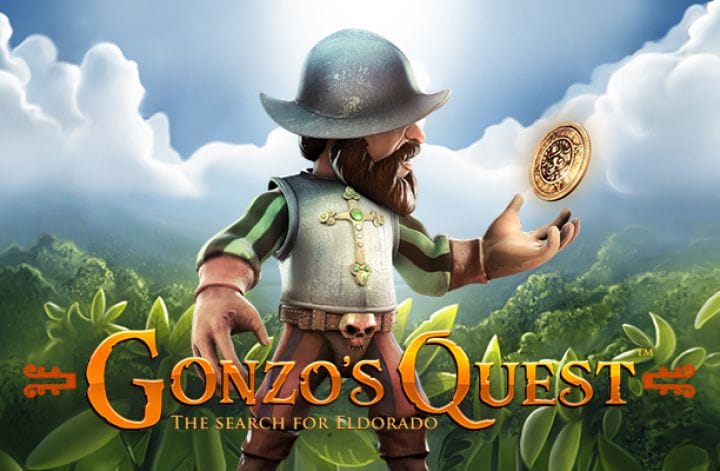 In the diverse world that is UK slots games, every now and then you stumble across a theme that is truly original and brilliantly detailed. That theme can be found in Gonzo's Quest, a Mayan adventure themed slot game that allows betting from just 1p per spin.
The game has wonderful graphics and is led by a brave hero, Gonzo, a happy-go-lucky bloke you is more than pleased to lead you around with him on his quest. Packed with a fun sense of humour and a sense of adventure, too, Gonzo's Quest is a really popular online slot game from NetEnt that is gaining lots of attention for it's useful bonus features and picturesque appearance.
Before you start playing make sure that you check out our UK slot promotions!
Quicklinks: Lucky Irish | Irish Luck Jackpot | Irish Eyes | Cops and Robbers | Starburst | Enchanted Prince | Sirens Serenade | Ted

Summary of Gonzo's Quest Slot UK
This is surely one of the best looking uk slot games around, as Gonzo's Quest brings stunning natural and ancient landscapes to the reels for a Mayan themed online video slot game. The game is set in El Dorado, the lost city of gold, and it is up to Gonzo to lead you there and back with a helping of gold for your trouble.
When you consider how good the graphics and animations of this fully 3D slot game are, you will be surprised that it was actually released way back in 2011, making it nearly a decade old. The look of this game is really superb, playing a key role, clearly, in the very rethinking of what a slot game can be.
Betting starts at just one penny per spin and goes up to a very humble 50p per spin, unlike many games which prefer to get well beyond a tenner with betting limit. The symbols are all theme relevant to the jungle in which the game is largely set and as well as these animal characters, you will regularly see the man of the hour, Gonzo, as he runs in and out of view and across the reels from time to time.
There is a nice helping of bonus features in Gonzo's Quest and they go a long way in making this game the wonderful spectacle that it surely is. From the Amazon jungle to your smartphone, this is a very exciting and adventurous title.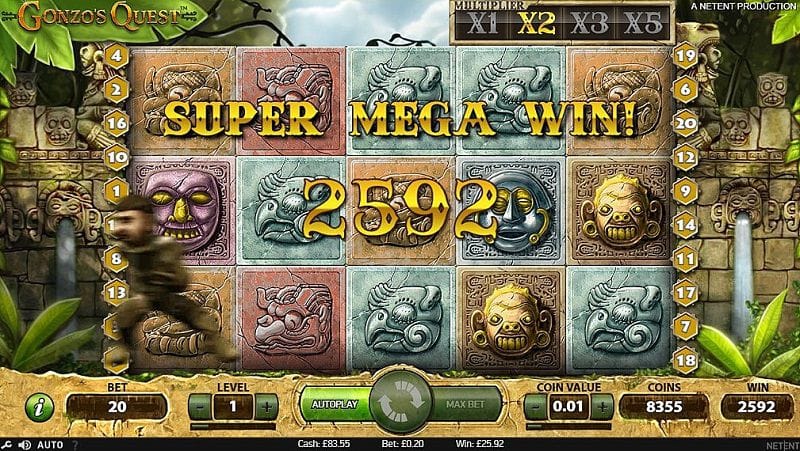 NetEnt – the developers of Gonzo's Quest Casino Game
It is fair to say that sometimes the developers of online slot games sometimes do not get the phrase they deserve but the prolific NetEnt who are behind this particular online slot game certainly deserve plaudits. It is they who has created this unique world and landscape for Gonzo's Quest to excel in, with the overall environment being a major reason for the success of this slot game.
There is a wonderful attention to detail right down to every leaf and every branch of the forest that the game is set in and that should be to the credit of NetEnt. NetEnt are up there with the very best of the best when it comes to designing and developing online slot games and online gambling games in general. They have a great knack for creating an original feeling slot game with a good and well designed theme. Better still, NetEnt know how to make their games brilliantly accessible to the whole gambling community.
One way in which NetEnt achieves this is thanks to the brand's ability to make their games fully optimised for all major platforms. This means that you can play one of NetEnt's latest online slot games in any way you wish, be you an avid smartphone gambler, tablet flutterer or desktop reel spinner. This, in combination with their commitment in making betting minimums quite low - or in this case as low as possible at one penny per spin - helps to make gambling safer, securer and more accessible to all budgets and gamblers of all experience levels.
Little touches like this, as well as there obvious quality when it comes to graphics and animation, make NetEnt the esteemed developer that they in the modern online gambling world, so fair play to them.
Playing Gonzo's Quest Online Slot UK
Playing Gonzo's Quest is a pure pleasure and it is clear that the 2011 release was way ahead of it's time. As we have mentioned once or twice already, one of the best parts of the game is the overall look and feel. The reels are wonderfully designed and that backdrop, with waving rainforest trees, plans and animals stuttering around, is truly a thing of beauty.
With 1p bets, there is a chance to get a feel for this game before you commit any major money on it. The 5 reels and 20 pay lines set up makes Gonzo's Quest a daily standard sounding slot game but, while it is certainly simple and easy enough to understand and play, it is anything but basic.
Great graphics come into their own on those 5 reels, with symbols that include all a snake, bird, alligator and fish. Symbols that represent fire, the moon and health will also pop up from time to time, showcasing how all the symbols in this game have been specifically designed for Gonzo's Quest. The latter symbols are the most rewarding as they can give you up to 125 times your stake for a combo of five in a row.
Gonzo's Quest Bonus Features and Free Spins
The game in question has a nice helping of bonus features with three in total. Better still, they are all relevant to the theme with the avalanche feature seeing rocks fall from the screen. This adds a real sense of drama and excitement but do not worry, the rocks will not hurt Gonzo but they will replace symbols and help you win bigger.
Avalanche multipliers are also on offer in Gonzo's Quest and the game comes with an always popular free spins feature that gives not only free spins but multiples, too.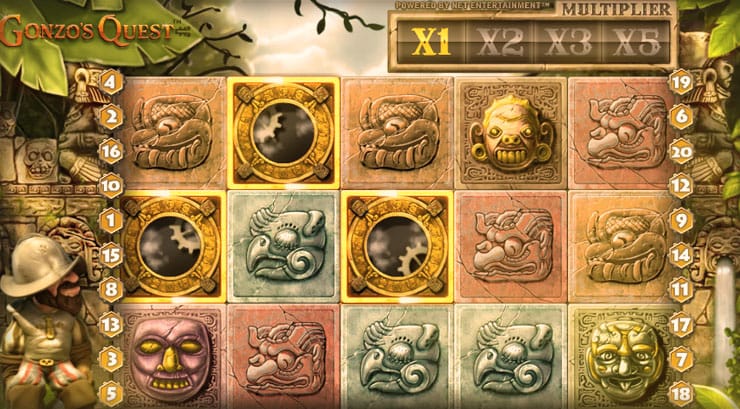 Verdict on Gonzo's Quest
Despite being made in 2011, Gonzo's Quest is one of the most modern and advanced slot games you will find anywhere online. This is a must spin from NetEnt, while we also offer Guns n Roses slots!