Jack and the Beanstalk

Online slot games are evolving every day and the age old format of a fruit machine is now amongst the challengers for your attention online.
They come up against stiff opposition in the form of online card games, online bingo and slot online UK games, but for the most part, online video slot machines are proving to be a flexible and very popular way to gamble online.
This slot game here uses a theme that we should all know well, as the classic fairytale of Jack and the Beanstalk is used as the inspiration in a slot  game of the same name.
Jack and the Beanstalk has cartoon style graphs and a great level of detail that pays tribute to this classic English fairytale. A story that was first told in the 18th century, it involves a young boy Jack buying magic beans that grow into a gigantic beanstalk.
Climbing the beanstalk, Jack goes all the way into the clouds and finds a world of riches and helps himself to a chunk that would change his and his family's life. If that is not a great premise for an online slots casino game then we simply do know what is as you play.
Quick Links: Gonzo's Quest | Mad Mad Monkey | Immortal Romance | 3 Genie Wishes | Aloha | Bonanza | Chilli Heat | Asgardian Stones

How to play Jack and the Beanstalk Slot
Jack and the Beanstalk is a video online slot game with appealing promotions and this is thanks to some lovely graphics that animate this fantasy world in which the slot machine is set.
There is a really high level of animation which does well to animate what otherwise could be seen as a simple online slot.
However this far from it, with a truly detailed world for players to step into or in Jack's case, climb into.
The game has 5 reels so players who regularly play fruit machines online will know this format fairly well.
There are 20 pay lines to work with as you try and create wins from the various symbols that will emerge on the reels of this entertaining slot.
A nice betting range of 0.01 to 0.50 allows for some room for movement for gamblers of varying budgets, while a jackpot of 1000 acts as the main motivation for monetary gain in this fantasy themed spectacle.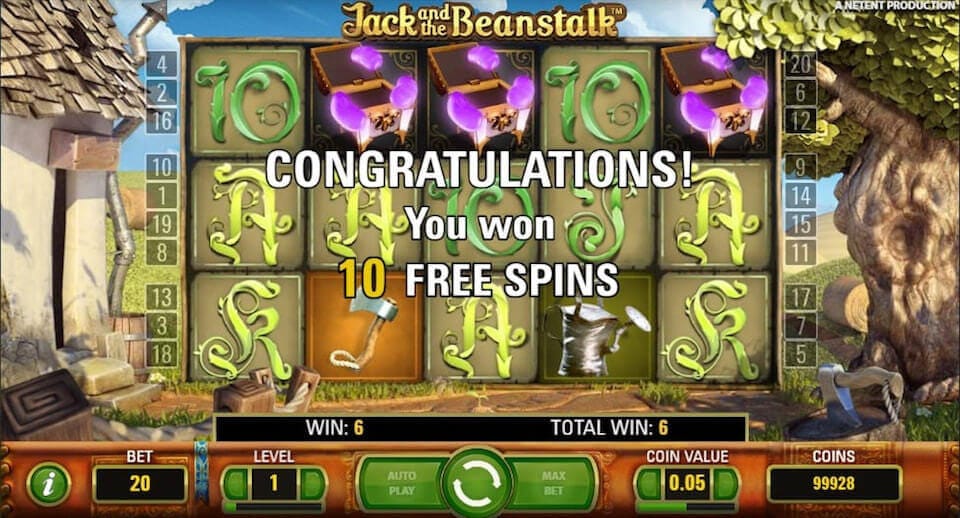 Who Developed Jack and the Beanstalk slots?
Developers of online casino games seem to see no end for the amount of potential that the series has, and NetEnt, the developers of Jack and the Beanstalk, prove this with their great work in this title.
Developers like NetEnt are the reason as to why the online casino industry is so strong right now, helping to create so many games that fuel the imagination and take players into immersive other worlds that are far more than just a fruit machine.
NetEnt are slot game developers who are very well known thanks to their long-running good work in this sub genre and subculture of gambling.
They are known for creating original slot games with unique themes and as seen here, a high level of visual content, too.
Perhaps most importantly in this modern era of online gambling, NetEnt are able to make their games available across all major platforms so online gambling via mobile devices is now very much the norm for slot game fans.
What to expect from Jack and the Beanstalk Online
As we mentioned, this game is simple to play but far from your average slot machine. The graphics are cartoon in style but also 3D, looking like an animation from a Disney Pixar Motion Picture, perhaps.
The colours of the sky and fields are vivid and Jack's cheeky grin is an endearing one and it's just as well, as he leads the game as the main character and is in sight for much of your experience playing Jack and the Beanstalk.
You assign the value of your coins in this game and this allows for a really nice betting range that opens up this intriguing slot game to gamblers of all budgets.
The gameplay is fast and this is thanks to great animation that helps the game to flow fairly effortlessly.
A golden goose and other theme relevant symbols will emerge on the reels and these are really important parts of the game due to being the higher paying symbols.

Free Spins and Bonuses in Jack and the Beanstalk
It is not often that you will find a modern UK slot game that does not have bonus features or perhaps the chance to win some free spins and Jack and the Beanstalk is no different in this sense.
The game has a couple of bonus features that the player can use to their advantage, with these extras increasing the chances of wins and big wins when they are triggered.
Wild symbols can fall onto the reels at times and reward you with one re-spin and when this happens, at no extra cost to your stake, this extra wild will stay on the reels.
Known as Waking Wilds, this a really effective but simple bonus feature in Jack and the Beanstalk. If you land 3 of the Treasure Chest symbols on the reels at once across a payline, you will be rewarded with a free spins feature and this, along with the Treasure Collection, offers the chance to really make the most of what Jack and the Beanstalk has to offer.
Should you play Jack and the Beanstalk?
We love an online slot machine that puts a great deal of effort into its graphics and Jack and the Beanstalk certainly does this.
The animation of this iconic story is really impressive and it helps to create a game that feels like something way more than just an online slot machine.
Instead, you are taken into a whole world of fantasy that is worthy of this brilliant theme that has been chosen and used to the advantage of the developer.
With not one, nor two but three bonus features in total, there are many ways to make your fortune here and none of them require you to climb up a beanstalk and weave past giants.
You can also try a romantic game that you might fall in love - Lucky Valentine Slot.