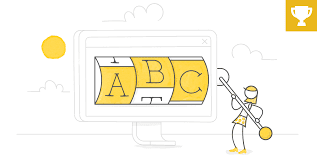 One of the most pressing questions which haunts many iGamers who have a penchant for online slots is whether or not they are really random - in other words, whether or not they are genuinely fair. Of course, in theory, the answer to that question should be a resounding yes, and no player of slots should ever have to harbour doubts. But, due to the recent surge in popularity of online slots and online casino sites, the risk of dodgy casino sites offering rigged slots has risen. As a result, undiscerning gamers may find themselves being cheated out of their money. 
Here at Slots UK, we care deeply about the safety, security and enjoyment of our players. Therefore, we are a fully licensed and regulated online casino - urging online gamblers to only stick to casinos that can offer the same certainty of your protection. With that in mind, later in this blog we will be offering you helpful tips on how to spot a potentially disreputable online casino which may harbour rigged slots - but first, let's take a look at online slots in general, and find out why they really are random (or should be, when provided by the right casino). 

The importance of RNG
If you have read even a little about online slot games, then you will surely have stumbled upon the term 'random number generator', or RNG. 
This is the mechanism which underpins many of your favourite online slots, and which serves to guarantee their random nature - thereby making them fair and safe for you to play. 
Random number generators consist of complex mathematical algorithms, produced thanks to cutting-edge statistical programming, which allows the slot to emulate the genuine randomness that you would also find when, for example, rolling a dice. This means that, every time you press the Spin button, anything can happen, and each spin gives you a chance to win a big prize - or walk away with nothing - no matter what has happened on your previous spins. 
These random number generators are rigorously tested before a slot can be released, with developers allowing their games to be independently tested for genuine fairness over the course of literally millions of spins. This independent verification offers online gamblers peace of mind. 
The RTP factor 
There is another important term beginning with 'R' in the world of online slots, and that is Return to Player percentage, or RTP. RNGs and RTPs have a strong influence on each other, with the random number generator designed to make sure the slot pays out in line with its RTP, while still remaining random and fair. 
Generally, online slots in 2021 have an RTP of somewhere between 96% and 98%. The higher the RTP, the better for online gamblers, as this means a lower house edge. 
RTPs and RNGs are designed to work harmoniously together as the underlying foundation of an online slot, maintaining the random nature of the game while also ensuring a certain level of payouts - although when and how they come cannot be determined or guaranteed (because the slot isn't rigged!). 
The downside of slot machines being really random 
While the advantages of truly random online slots are obvious - with fairness being the most important - there are a few drawbacks too. The main one is that, because anything can happen with every spin, you may end up waiting a while before you score a payout. This waiting time can be mitigated by choosing lower volatility slots, which have been designed to offer more frequent wins - however, the payouts you can gain through these slots tend to be lower than higher volatility slots, where you can wait a significant amount of time before getting lucky. 
How to avoid rigged slots and casinos online
As we have now explained, online slots provided by a genuine, fully licensed online casino will never be rigged, as these casinos are monitored by gambling commissions and other relevant authorities. 
However, there are a number of more dubious online casino sites out there, attempting to lure in unsuspecting players, and these are more likely to offer rigged slots which could see you fritter your money away without ever seeing any wins. Here are some warning signs to look out for, which could indicate that the casino site you are considering trying out is not reputable: 
No accreditation. Any licensed casino worth its salt will display its certifications somewhere on its homepage, usually at the bottom. If you can't find any such credentials anywhere on a casino's site then you can probably assume that it is unlicensed, and, therefore, less likely to 'play by the rules' and provide a fair and secure gambling experience. 
Scanty payment options. Casinos often have to prove their security and their credentials to third-party payment platforms in order to be able to utilise them on their site - so if you find an online casino which only has one or two payment methods, such as using a bank card, then this could potentially be a red flag, and further investigation of the casino's licensing (or lack thereof) could be in order. 
A poor selection of games. While a small selection of online slots could just mean that a casino is a small business, or just starting out, it could also be an indication that a casino is dodgy. 
Bad PR. One of the best ways to identify a potentially illegal online casino is by checking out the feedback it has received from other players. These days, it is easy to access business reviews online and find out what experiences other people have had; if an online casino has poor reviews, then it quickly becomes clear that this is one site that needs to be avoided. Similarly, it helps to check out any online casino's social media presence, which will reveal things such as the promotions they provide, as well as giving their players a chance to share their opinions; just as with reading online testimonials, as this is another helpful way in which you can weed out the good ones from the dubious ones. 
As you can see, there are several methods you can use in order to detect a dubious online casino. Now that you are equipped with this must-have knowledge, you should be able to steer clear of any less-than-savoury sites, and keep your money protected from potentially rigged slots. 
Can you increase your odds of winning online slots? 
Before we conclude our exploration of the random nature of online slots, let's take a look at one of the other most pressing questions to occupy the minds of online gamblers - can you boost your chances of winning online slots? 
As you may surmise, due to the random nature of these games, there is no surefire way to win, and no strategy that you can implement to guarantee success. Unlike chess and other games of strategy and subtlety, slots rely on the whim of luck; which, let's face it, is a large part of what makes them so exciting to play. 
However, there are a couple of ways that you can potentially increase the odds of a payout. The first is by choosing low volatility slots, as we have already mentioned. These slots feature a mechanism that works with the RNG to prompt more frequent payouts, while still maintaining its random nature.  
Another way is by choosing to play slots which have more bonus features, as these can sometimes offer you a plethora of ways to win - and while there are still no guarantees, your odds of a payout can certainly be increased. 
Finally, you could look for online slots which have a greater number of reels, as these will provide you with larger combinations - which also means bigger payouts, if you are lucky. 
Last notes on slot machines online
So, there you have it - to answer your most burning question, online slots - or, at least, those provided by fully licensed casinos - are really random; and yet, despite this random nature, and the impossibility of guaranteeing a payout, you can still increase your odds of a win, even if only slightly. 
Here at Slots UK, we pride ourselves on providing a fair and fun-filled platform for all your online gambling needs. If you are new to us, why not register, and take advantage of our welcome promotion, which gives you the opportunity to crack open our Royal Chest and scoop one of the glittering prizes it holds inside - the best of which is a magnificent 500 free spins to use on much-loved NetEnt slot, Starburst. 
NEW PLAYERS ONLY, MIN DEPOSIT £10.00, £8.00 MAX WIN PER 10 SPINS, MAX BONUS EQUAL TO LIFETIME DEPOSITS (UP TO £250.00), 65X WAGERING REQUIREMENTS AND FULL T&CS APPLY.