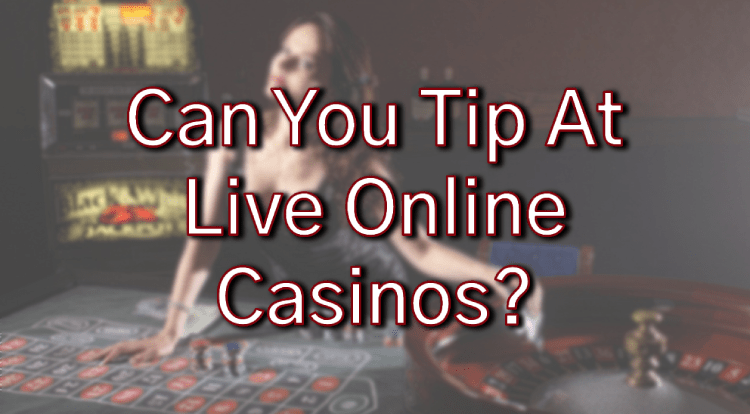 As online casinos became more popular due to their convenience, people also started to miss the atmosphere of brick-and-mortar casinos. Since then, live casinos have emerged as a successful compromise. 
Unlike the traditional online casino setup, where a Random Number Generator (RNG) dictates the outcomes, live casinos employ real dealers who facilitate the games using actual cards and roulette wheels. 
This has left many wondering if they should treat it exactly like a real casino, particularly in relation to the topic of tipping. Read on as we discuss whether you can tip at live online casinos.
What Is a Live Casino?
A live casino is an online casino that offers live casino games. These are games that use a real dealer operating the game in real-time with the footage live-streamed to the online casino. 
Players select the game they want to join and use the virtual overlay on their device's screen to place bets and make any decisions in the course of the game. The dealer can see the players' inputs and can respond as necessary. 
There is typically a chat function available so players can interact with each other and the dealer whilst playing.
Can You Tip The Dealer In Live Online Casinos?
Many players choose to tip the dealer in land-based casinos, and previously, they didn't have to worry about this in online casino games as they are played with an RNG, but what about in live online casinos? 
The answer actually depends on the casino and game you choose. Some allow tipping, while some don't offer it as an option. You can check the game's rules/options to see if it is available.
Are You Supposed To Tip at Casinos?
Tipping has always been a courteous gesture in brick-and-mortar casinos. While it isn't compulsory, it's fairly common for players to tip dealers at casinos for operating the game whilst they play.
But no, there is no hard and fast rule that you have to tip at casinos or even an expectation that you are supposed to. It's a personal choice.
Do You Tip When You Win a Jackpot?
While it's not a requirement, many players opt to tip the dealer if they win a jackpot as a show of gratitude for being the one operating the game when it happens. 
Tipping if you win the jackpot is far more common than tipping at other times since you have received a big win; it's part celebration and part gratitude. But again, it isn't a rule set in stone. It is more unspoken casino etiquette.
Play Live Casino Games at Slots UK
Now that we've discussed tipping at live online casinos, let's discuss where you can play live casino games online. The answer is: right here at Slots UK. 
With a plethora of live casino games to choose from, Slots UK offers its players an unrivalled online casino experience. You can find live casino versions of table games such as classic blackjack, roulette and baccarat. 
These games bring together the convenience of online casinos and the atmosphere of brick-and-mortar casinos to create a memorable experience for our players. 
Create an account for access to our live casino games, as well as a selection of the best online slots.
Conclusion
To summarise, if you're looking to tip at live online casinos, you need to check whether the online casino and the specific live casino game provide this as an option. It's available in some games but not in others. 
Remember, if it is available, it's a nod to the roots of casino culture, where tipping is commonplace, but it is not compulsory. 
Most importantly, please gamble responsibly. Set a budget and stick to it.