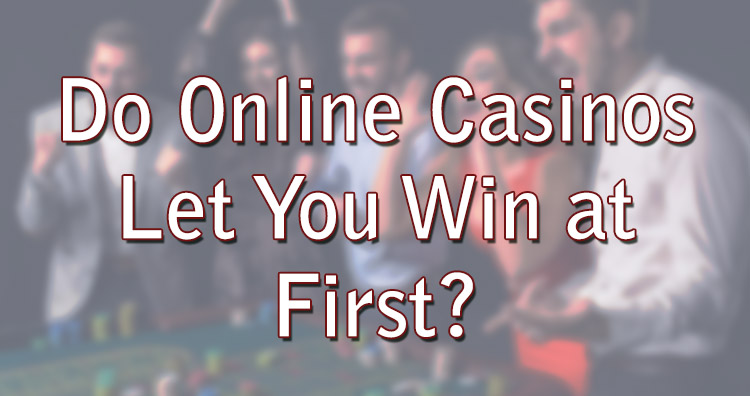 Online casinos have transformed the gambling industry, offering players the convenience of enjoying their favourite slot and casino games at a time and location that suits them. 
However, there is one question that often crops up: do online casinos let you win at first? We will explore this and more in this Slots UK blog post.
Are Online Casinos Rigged?
With the rise of online casinos, players often question their legitimacy and fairness. The good news is that all legal and reputable online casinos are regulated and audited by independent bodies, such as the UK Gambling Commission (UKGC).
Regulatory bodies like the UKGC ensure that casinos adhere to strict guidelines, which include using Random Number Generators (RNGs) in their games and maintaining transparency in their operations. This means that the games are not rigged, and casinos cannot manipulate the outcomes. The RNGs are audited by 3rd part companies to ensure they meet a certain standard of fairness and unpredictability.
The RNG is built into the slot or casino game and uses a complex algorithm that generates thousands of number sequences that correspond to possible outcomes every second for casino games. These outcomes are entirely random and cannot be manipulated by the casino. The moment a player presses the 'spin' button, the RNG uses the sequence generated in that instant to determine the symbols shown on the reels.
Each outcome is an independent event, so the chances of landing a win are the same in every round of a game. So, whether it is your first round or your thousandth round of the game, the chances of landing a win are the same. Of course, different games offer different odds.
How Do Online Slots Decide Who Wins?
As mentioned earlier, the outcome of online slots is determined by the RNG. The RNG constantly generates a random sequence of numbers, which correspond to a random assortment of symbols on the reels, and each time you hit the 'spin' button, the sequence produced in that instant is used.
Each slot has a different set of symbols, and the number sequences generated by the RNG determine which symbols appear on the reels. This means that the outcome of each spin is entirely random and independent of any previous or future spins. So, the chances of winning are the same on every spin of a given slot.
Can You Trust Online Casinos?
The trustworthiness of an online casino largely depends on its licensing and regulations. Reputable online casinos are licensed by regulatory bodies like the UKGC, which ensures that they adhere to strict guidelines and maintain fair play.
When choosing an online casino, it's important to consider factors such as licensing, game selection, payment options, security measures, and customer support. Online casinos that meet these criteria are generally trustworthy and safe to play at.
Why Am I Not Winning On Online Slots?
Slot machines are games of chance, so there is nothing you can do to change the odds of winning on a given slot game. However, understanding how slots work could help you to choose slot games that may offer better odds than others.
For example, each slot game has a Return to Player (RTP) percentage and a volatility level. The RTP indicates the theoretical average percentage of all wagered money that a slot pays back to players over a long time, while volatility indicates the theoretical behaviour of a slot game.
High volatility slots are more likely to award larger payouts than lower volatility slots but land wins less frequently, while low volatility slots are likely to offer smaller but more frequent payouts than higher volatility ones. 
Understanding these concepts can be helpful when trying to choose the right new online slot game for your playing style and budget. However, it's important to note that these are theoretical values. Due to the random nature of slot games, the results may be different in practice and may not reflect these values.
In conclusion, online casinos don't let you win at first. The outcome of casino games is entirely random and cannot be influenced by the casino.