Golden Vault of the Pharaohs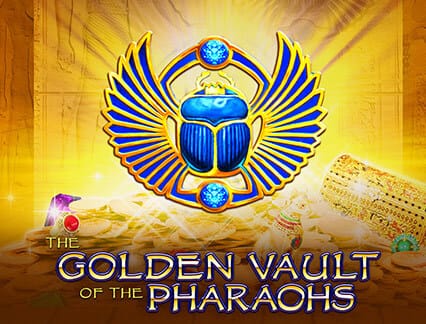 Review of The Golden Vault of the Pharaohs Slot
If you are into casino UK games, you will know already that there is an amazing amount of games out there to choose from.
You will find a whole wide variety of themes to pick from as well, with slot games being able to use almost any theme you can think of as inspiration for a slot game narrative and symbols on the reels.
And thanks to improving graphics and a great level of animation across the modern online slot, you can expect a great level of detail to be explored in each of these games, whether they use a classic theme or one that looks complete and original.
This game, The Golden Vault of the Pharaohs, combines two classic themes that we are fairly used to seeing, although merging them makes for something rather unique.
The Golden Vault of the Pharaohs combines the theme of luxury with an ancient Egyptian one that we already know is widely popular across the online slot game community.
There are plenty of online UK slot games that use this period of history and although this can make it hard for slots with this theme to stand out, The Golden Vault of the Pharaohs does well to break the boundaries between themes.
Also, when you hear of how big the jackpot is in this online slot game, the theme will not matter one bit…
Quick links: White Wizard | Fluffy Favourites | Fluffy Too | Fluffy Fairground Slots | Rainbow Riches | Rainbow Riches Megaways | Rainbow Jackpots | Fluffy Favourites Jackpot

Summary of The Golden Vault of the Pharaohs Slot Game
Golden Vault of Pharaohs is a slot in that despite having a classic 5 x 3 reel layout, plays out a little differently to standard slots you may come across.
For example, one main attraction of this online slot game has to be the fact there is 1500000 to be won from the jackpot.
A huge sum of money that The Golden Vault of the Pharaohs could payout makes it a really popular choice and helps it to stand out from many games that have a similar theme.
Also, when you bet on this game you will see that there is a really large betting margin. You assign what value your coins are worth before betting and they start from 0.6 and go all the way up to a large 450, so there is a lot of room to work with even for the higher rollers in the online slot game community.
An RTP rating of 96.71% is appealing, too and interestingly, there are actually not bonus features to report in this title.
This lack of bonus features will be a weakling factor in the eyes of some players yet we actually enjoy the simple approach to slot games that the lack of added on extras creates.
Rather than hoping to trigger bonus slots features and then work your way onto wins, it feels as if big wins are one step closer in The Golden Vault of the Pharaohs.
High 5 - Developers of Golden Vault of the Pharaohs Slot
It is always worth knowing who developed the games who you like because the chances are that, if you lie one slot game from a developer, you might just like their entire collection.
Some developers have bigger collections than others with the likes of Yggdrasil and Microgaming being very prolific examples of innovative brands who have been in this slot game realm for some time now.
Yet, beyond these guys and Blueprint Gaming who also regularly put out impressive slots, there are some lesser-known names who are really pushing the boundaries of what modern slot games online are all about.
High 5 are the developers of the software that allows The Golden Vault of the Pharaohs to be the mightily fine online video slot machine that it is.
With such great graphics and convergence of themes, it really is a rather original game that pays tribute to slot game history and human history.
There are a few other great games in the collection of this developer, with all of Siberian Storm, Cat Prince, Van Gogh, and Sirens being examples High 5 Gaming's excellent output.
About
The Golden Vault of the Pharaohs Gameplay
Playing this online slot game starts as you would expect, with the player making a bet. What is interesting though is that you have the chance to assign just how much your coins are worth in the game, before finding your range in a massive betting gap.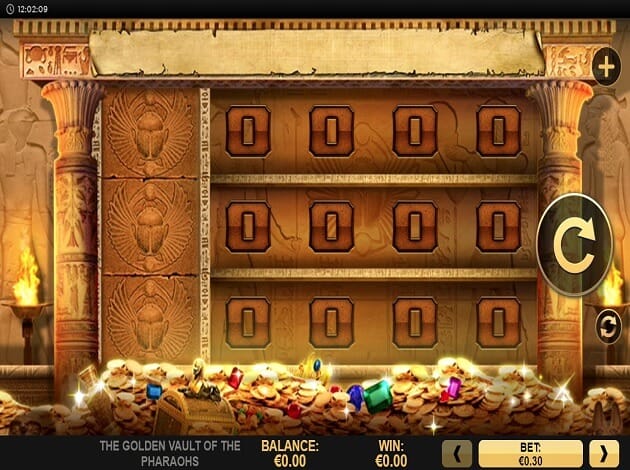 The Golden Vault of the Pharaohs has some really unique aspects to the gameplay that it offers but in general, it is still really easy to play and no matter what kind of level of experience you have in playing online slot games, you will certainly find that you will quickly understand the ins and outs of this interesting video slot.
Something particularly unique about The Golden Vault of the Pharaohs
It is the fact that not all the symbols on the reels will result in a win. There is actually one symbol that features on the reels that, when landed on a payline, rewards you with nothing.
No matter how many of these symbols you land, the player will win nothing at all and this dud acts as an interesting curveball for players who are used to having everything of the reels worth something.
This symbol is easy enough to spot though as it is marked with a zero, so perhaps we should not be so surprised that it will pay you absolutely nothing.
Also, when you concert the fact that if you land one of the highest paying symbols on the reels, the golden statue, for example, you can win some really, really large wins.
Despite not being a jackpot slot game, this online slot offers a really big jackpot and that is a large attraction to The Golden Vault of the Pharaohs.
Verdict on The Golden Vault of Pharaohs
If you are after slot games with a bonus round of some kind then you better look elsewhere, for The Golden Vault of the Pharaohs is one of a few online video slot games in 2022 to go without the inclusion of online slots.
However, rather than being a weakening factor, this puts more emphasis on the main gameplay and with some really high paying symbols available, perhaps a bonus feature is not needed after all.
You can also play Fruit Collector Slot.